North Dakota startup awarded $200,000, becomes semifinalist for $1 million grant

FARGO, N.D, - Fargo-based immersive media company, Be More Colorful, has advanced to the semifinals of the 2023 Yass Prize, an award that recognizes and rewards innovative approaches to education. As a testament to its innovation, Be More Colorful will receive a $200,000 grant for its CareerViewXR platform, positioning the company to vie for the coveted $1 million Yass Prize next month.
"Being recognized among such transformative national players in the education field is a proud moment for us, our team, and everyone in our community who has supported us during the development of CareerViewXR," said Katie Chaussee, co-owner and founder of Be More Colorful.
CareerViewXR: Bridging classrooms and workplaces
The CareerViewXR platform harnesses 360-degree technology, crafting interactive web-based tours and accompanying virtual reality videos that seamlessly transport job sites into classrooms. Its burgeoning library of field trips and job shadows offers students a window into the daily lives of professionals in authentic work settings. Through these experiences, learners gain insightful perspectives on various industries, aiding them in making informed career choices.   Be More Colorful plans to allocate any grant proceeds towards the development of an enhanced platform. If awarded the full $1 million, this upgrade would introduce an individual user subscription, complementing the existing group subscription model. Such a move not only mirrors the Yass Prize's STOP principle of "Permissionless" but also paves the way for students and adult career explorers to delve into immersive field trips and job shadows, irrespective of affiliations with school districts or other entities. "In our ever-evolving world, it's imperative that educational resources remain borderless. 'Permissionless' to us means every student, regardless of their background or location, should have access to tools that expand their horizons," emphasized co-founder Katie Chaussee. "Especially for those who might not have traditional educational pathways available to them."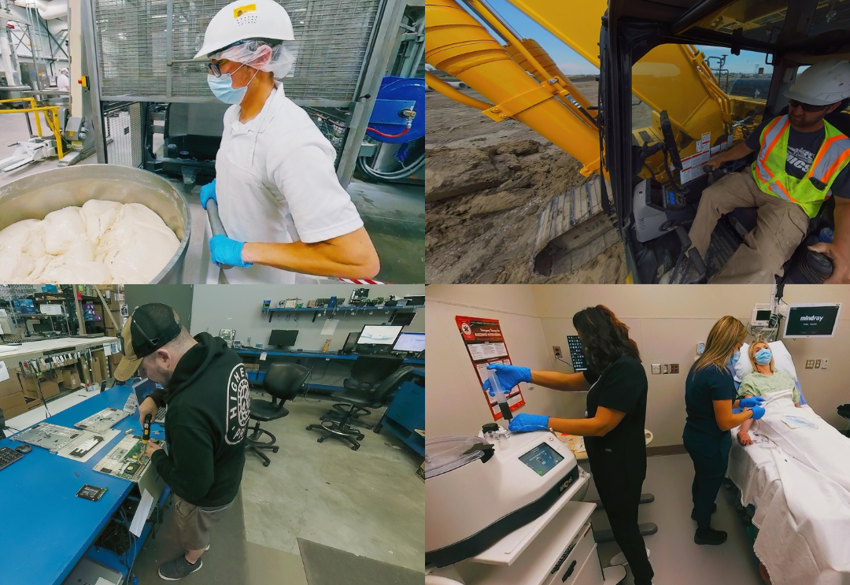 Various snapshots of career content featured on the CareerViewXR platform
Understanding the Yass Prize: A beacon of educational innovation
Established in 2021, the Yass Prize has rapidly gained recognition as one of the most esteemed awards in the education sector. The organization's mission is to highlight and honor organizations and individuals pushing boundaries of educational methods and technologies, aiming to create a brighter, more inclusive future for students.
The prestige of the Yass Prize is rooted in its rigorous selection process which, if successful, puts applicants on a path to compete for the $1 million prize. Beyond the technicalities and grant money, being selected as a quarterfinalist or semifinalist is a testament to groundbreaking ideas that have the potential to reshape the educational landscape. Previous awardees, ranging from edtech startups to grassroots community initiatives, have gone on to achieve national acclaim, further investment, and, most importantly, have made a tangible difference in the lives of students.
The Yass Prize competition
This year's competition began in early 2023 when nearly 2,000 nationwide applicants prepared and submitted their proposals to be considered for the Yass Prize. On September 14, 2023, after an intensive application review process, 64 quarterfinalists were announced from the applicant pool. Entrants were gauged based on the Yass Prize's foundational STOP Principles — emphasizing Sustainable, Transformational, Outstanding, and Permissionless education methods. Quarterfinalists were further evaluated through an interview process which narrowed the field to 33 Semifinalists. The Semifinalists collectively impact over 520,000 students in 21 states, and their national influence grows significantly when considering the reach of education technology contenders.
Matthew Chaussee, co-founder of Be More Colorful, stated, "The depth and breadth of this competition showcases the tremendous strides being made in education. We're honored to be part of this journey and represent North Dakota as a leader in innovative education."
The Semifinalists will all enter a four-week virtual accelerator program starting October 31. This will be followed by an in-person boot camp in Miami from November 27-30 where the Semifinalists will fine tune their message and pitch to convince an audience of investors, edtech experts, and education innovators to determine whether they will become one of eight Finalist awardees, who will each receive a $500,000 grant, or whether they will be selected as the sole winner of the $1 million Yass Prize.
Parent's choice award
A second announcement by the Yass Prize highlighted an opportunity for Be More Colorful to win a supplementary Parent's Choice award of $100,000. If awarded, Be More Colorful has pledged to use the funds to seed a program that would provide virtual reality headsets to schools unable to afford them. All schools are eligible, but special consideration will be given to schools and homeschools not receiving federal, state, or local funding to support their operations. This supplementary award of $100,000 will be given to the public's favorite semifinalist as determined during an open voting period. This year's voting period runs from October 10 through November 25, 2023. According to the Yass Prize committee, "Whether you are a parent, know a parent, or love like a parent, you can vote every single day for up to two different semifinalists." The winner of the Parent's Choice award will be announced on December 13, 2023 at the Yass Prize Gala in New York City.
Parent's Choice Award voting site: yassprize.org/voteFree sample experiences of CareerViewXR journeys: careerviewxr.bemorecolorful.com/experiences/
###
About Be More Colorful
Be More Colorful, based in Fargo, North Dakota specializes in immersive technology solutions for solving workforce development problems. Co-founded by husband-and-wife team Matt and Katie Chaussee, the company has been at the forefront of creating immersive media solutions that help people make better decisions about where they choose to live, learn, work and play.https://www.bemorecolorful.comCareerViewXR Website: https://www.careerviewxr.comThe Yass Prize Website: https://yassprize.org/ 
  Be More Colorful Website: 
For media inquiries, please contact:
Maddysen Boecker Communications Coordinator, Be More Colorful
Email: maddy@bemorecolorful.com
Phone: (701) 353-2000 EXT 704

Learn how CareerViewXR is being implemented in a rural school district to bring work environments into the classroom!